Welcome To INNOVENTIONS' Software Download Section
This page lists the latest firmware and software files available for our memory testers. You must register in order to download the RAMCHECK LX and RAMCHECK firmware. Please click here to register.

Upgrade your PC Communication program by clicking the relevant link below. We recommend that you automatically upgrade your tester's firmware directly from the PC Communication program using the Automated Download Button. Please make sure you are using PC Communication versions 3.10 (RAMCHECK LX) or 2.26 (RAMCHECK) or higher. Alternatively, you can manually install the firmware by clicking the following links: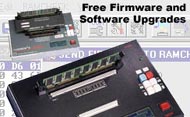 RAMCHECK LX Product Line
RAMCHECK LX Firmware (BIOS) Download (vs 3.34)
RAMCHECK LX Communication Program (vs 3.10)

RAMCHECK Product Line
RAMCHECK Firmware (BIOS) Download (vs 2.66)
RAMCHECK Communication Program (vs 2.26)

Archived programs:
SIMCHECK II Programs
Original SIMCHECK Downloads
INNOVENTIONS provides these software and firmware upgrades to our customers free of charge! Since we are constantly updating and improving the firmware and software used with your memory tester, we recommend that you check for new versions every few months to make sure that you're not missing out on any new features and capabilities. Firmware and PC software development logs are available for both the RAMCHECK LX and RAMCHECK.

Please note that the RAMCHECK/RAMCHECK LX firmware downloads require a password which you can get by registering your product. Registration is fast and easy. The PC Communications programs and older SIMCHECK firmware files can be download without registration, using the above links.

Installing the new firmware on your RAMCHECK LX or RAMCHECK is simple! For instructions, please refer to the RAMCHECK LX Communications or RAMCHECK Communications page.

Problems or questions? Please contact our Technical Support Department at (281) 879-6226, e-mail support@innoventions.com.
---
BETA PROGRAMS

This page is reserved for official beta reviewers ONLY!
---
Copyright notice: All the files which are accessible from this site are copyright (c) 1995, 2018 by INNOVENTIONS, Inc. All rights reserved. These files are intended for use only by registered owners of our products, under the INNOVENTIONS' standard license agreement.