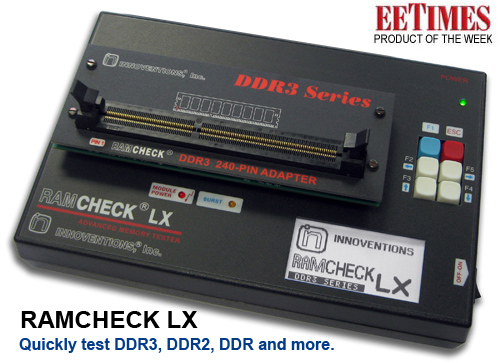 With its small footprint, large bright display and fast USB interface, the RAMCHECK LX memory tester is very simple to use. To test a module, just turn RAMCHECK LX on, insert the DIMM, then press the Start button. That's it! No complicated setup is required. Display screens are informative and simple to read. Of course, more complex user defined test parameters are available for advanced users.
Frequent Firmware Updates
RAMCHECK LX is easy to upgrade! INNOVENTIONS provides frequent firmware upgrades that you can quickly download and install. With its high-frequency test engine, expandable design and powerful test algorithms, RAMCHECK LX gives you state-of-the-art memory testing at a very affordable price. It even includes a PC software package to print/log your test results and store/program SPD information.
Since we've been in business for over 30 years, you're in great company when you purchase from INNOVENTIONS! Thousands of companies worldwide, including most Fortune 500 companies, use our test equipment every day, including the original SIMCHECK tester.